Tips to buy the best jeans for men in 2022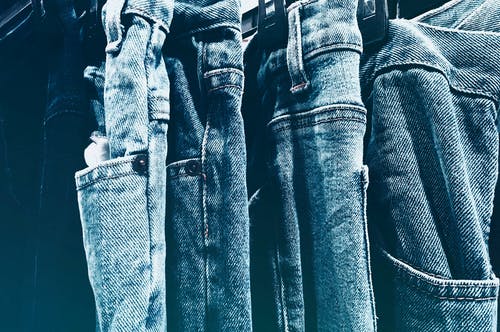 Don't rush-Before going to buy jeans let's measure your waist- notice if they go in easily. Does it suit your muscular body? Follow these pin points.
Men and women both love jeans equally. The main reason for this is comfortability. But how do men always end up getting the wrong one? This is because of the variety of styles. With the increase in demand for jeans among men, the style categories have also increased. Nowadays, we find a slim, trim, loose fit, straight, relaxed, or classic variety of men's jeans. That results in the wrong selection of jeans pair.
So, here we will share some tips that will help men to buy the best jeans for themselves.
Why it is difficult to buy the best jeans?
a variety of styles usually confuses a man to buy a good pair of jeans
Having no understanding of your body type often leads you to pick the wrong jeans
Things to remember while buying jeans
Wearing jeans that suits your body type and makes you comfortable is key.
know your body type
know your waist
Let's take a start with the waist!
The most important thing, in selecting the best jeans for yourself, is to know your exact current waist. Your jeans should sit at your waist not above nor below this. To measure a waist, you can use a measuring tape. Hold it above your belly button where your body makes a crease while bending. Jeans should stay fit in their right place without a belt neither too loose nor too tight.
Jean that favors all men!
Straight jean having a medium rise favors all body types. It looks cool regardless of the shape or waist size. It provides room for manly bits and has a pocket space that can comfortably carry a wallet and cellphone. Straight jeans' width varies, but legs are uniform at the ankle, knee, or thighs.
Jeans that suit your muscular bodies
Straight jeans favor muscular and chunky bodies. There areseveral categories of straight jeans that might confuse you. Regular, classic, or athletic jeans are all straight jeans categories that vary in their seat and legs having some stretches for ease and comfort. Go for slouchy jeans. Avoid saggy or stiff jeans if you are muscular pair them with a tee or untucked button-down that will cover up your tummy, also, you can add a jacket to add to your style.
Jeans that suit professionals!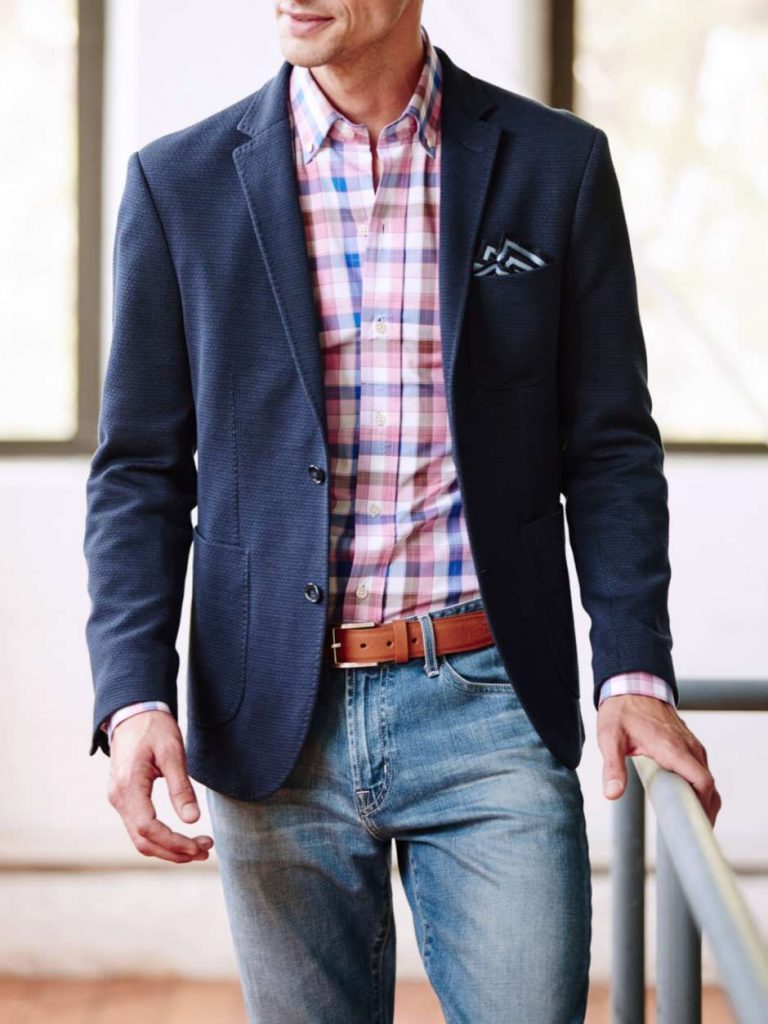 Black, dark blue, and medium blue men's jeans work well if you are a professional and want to achieve a more polished or business-like look. It is best to choose jeans with having uniform color with no fades or patterns. Style it up with a button-down shirt and blazer, loafers, or ankle boots, and here you go!
It will give dress pants or chinos look.
Jeans for average size men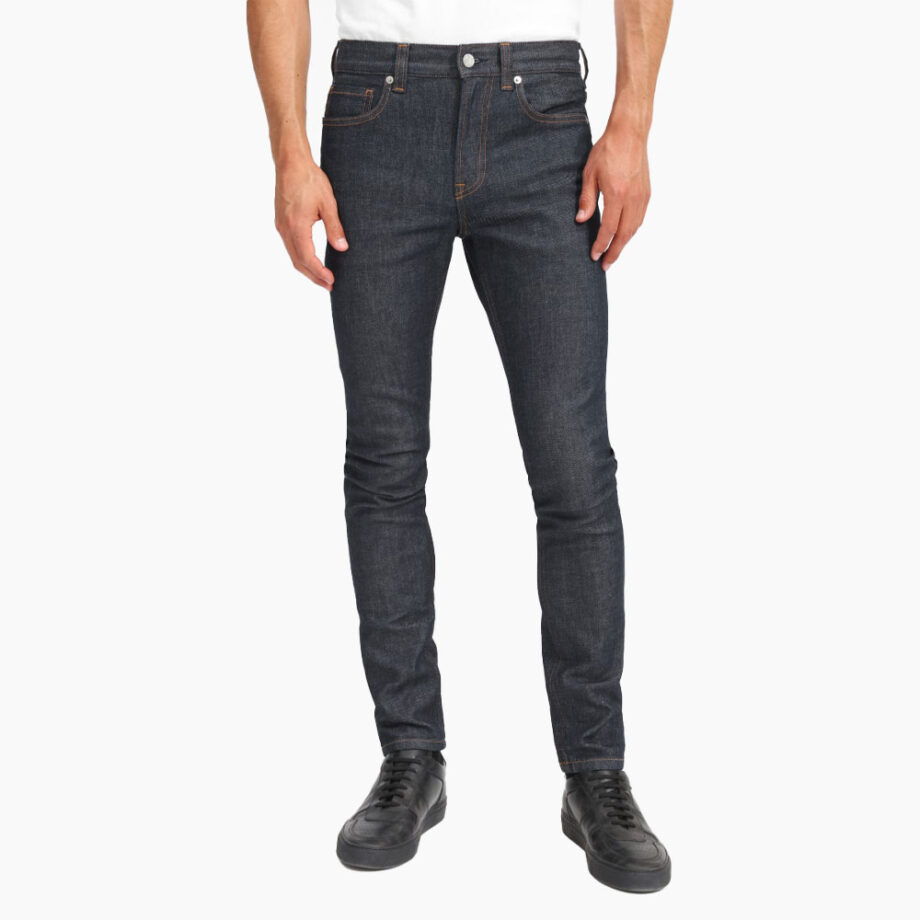 If you are an average size body frame, in that case, buying the best jeans is quite easy. Both slim and loose go well. That means you have a variety of styles to choose from.
You can go for any rise
Slim straight in case you do not have muscular legs
Go for tapered fit jeans if you have muscular thighs
Do not go for skinny jeans if you are not a teenager
Avoid slimmer fit jeans if you got a knock-knee
Jeans for shorter men
What does a shorter guy with an average build possibly want? They want to look taller than their actual height.
Do not go for a low rise
Mid-rise is a way to go as it will make you look taller
Choose straight leg fit jeans that will help elongate your body frame
Avoid relaxed or loose fit jeans as they will make you look shorter
Avoid a skinny fit
Taller guys usually do not prefer any jeans type that will make them look taller.
Avoid high waisted jeans
opt for mid-rise or low-rise jeans
Slim or regular leg jeans are a good pick
Avoid skinny jeans
Bulky guys have a broader body with beefy thighs and a massive belly. So, it is obvious for them to want means that do not make them look much fatter.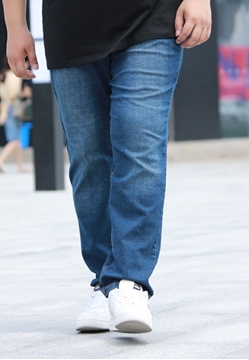 It is good to choose a mid-rise or a low-rise jean
Avoid any lightweight fabric jeans
Avoid wearing slim, skinny, or loose leg jeans
Tapered jeans are a great pick to get
In case, you want to look slim, opt a regular fit jean
Jeans for skinny guys
Skinny guys should avoid skinny fit jeans
Opt jeans with any rise
Any jeans would be good except supper skinny fit
Getting a perfect fit
Try on jeans before buying
Do not buy jeans that are too big for you in size
Keep in mind that denim loses after a wash while buying
Do not follow the size tags of a brand you have no experience with
We have been wearing jeans for years but still, we end up getting the wrong pick. Jeans are a clothing staple and no other clothing is as satisfying as jeans. It offers a variety of styles to choose from for a workplace or any event. Thus, this makes it essential to get the right pick that favors your body type and suits best to your style and comfort.
Get the right pick that compliments you!